New Directions for State K-12 Education Accountability Systems in the COVID Era and Beyond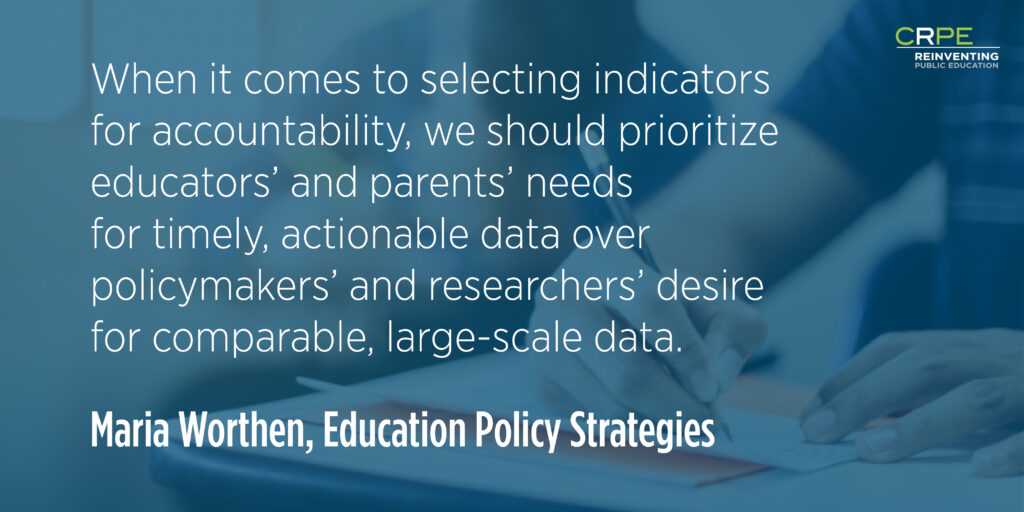 Today, the Center on Reinventing Public Education (CRPE) published State Accountability Systems in the COVID Era and Beyond, which I co-authored with Robin Lake and an impressive roster of contributing experts on education policy. In the following excerpt, I share my thoughts about how states should be thinking about accountability this year. The bottom line: prioritize data that meaningfully supports equity and informs teaching and learning, and use this moment to do better going forward.
When it comes to selecting indicators for accountability, we should prioritize educators' and parents' needs for timely, actionable data over policymakers' and researchers' desire for comparable, large-scale data.
State policymakers can take advantage of existing flexibilities in ESSA to redesign accountability systems. School report cards should include multiple measures of student learning aligned to the multiple facets of equity, rather than relying on a single summative school grade. They should prioritize assessments that are embedded in students' learning process and inform and support teaching and learning in ongoing ways. This will ensure that assessments add value for educators, students, and families.
States can take advantage of the pause in federal accountability to pilot new ways of rating schools and identifying them for improvement. Do not let the temporary nature of this situation distract from the opportunity to address the long-term need for better accountability models. For example, states can:
Measure student outcomes in ways that are actually aligned to and support the curriculum (states participating in the innovative assessment pilot can lead the way here).
Ask how data that students, teachers, and families already use can be aggregated together for accountability purposes, rather than collecting additional data just for policymakers.
Finally, think about how accountability can become more reciprocal. Rather than just asking schools to feed data up to the state, set up systems that help schools make sense of the data to inform instructional strategy at the school level, and to target resources and supports.